EVENTS ORGANIZATION
At Stanford and Leeds, I have been involved in the organization of several conferences and events related to digital media in Africa, media globalization, digital convergence and political engagement, urban communication, media production research, and African cinema. Find out more below :
RESEARCH NEWS
2019 – July: IAMCR Conference in Madrid.

It's always a joyful moment to reunite with the IAMCR community! I presented my ongoing work on Facebook's rolling out of Free Basics across Africa. My talk was part of a top-notch panel on "Digital Developments in Africa: Civic Engagement and Digital Ecosystems" which included Wendy Willems (LSE), Tanja Bosch (University of Cape Town), Viola Milton (University of South Africa) and Elke Mahieu (Ghent University).
2019 – May: Plenary talk at MIT's Digital Media and Democracy conference.

I joined Tarleton Gillepsie (Microsoft Research & Cornell University), Orit Halpern (Concordia University), Nanna Verhoeff (Utrecht University), and William Uricchio (MIT) on the closing plenary of MIT's Digital Media and Democracy conference. We talked about the place of  historical precedents in our understanding of digital phenomena, digital colonialism, and the discursive load of the vocabulary that we use as scholars. You can listen to it here.
2019 – March: "The Active Citizen in the Digital Age – Getting Connected" Discussion at Stanford.

I had the pleasure to organize and moderate a discussion on digital access and democratic participation at Stanford PACS. In the digital era, participation often depends on access to a free and open internet. Yet for most of the world's population, digital access remains expensive, unreliable and limited. How are marginalized communities – across both the US and the Global South – organizing digital access for themselves? In this event, I talked to two experts on connectivity and community-led efforts to create equal access to digital resources. Tawana Petty is a researcher with the Detroit Community Technology Project, which brings together technologists, activists, and community members to build wireless networks across Detroit. Jenna Burrell, an ethnographer and associate professor in the School of Information at UC Berkeley, has researched digital connectivity among marginalized populations, first in sub-Saharan Africa and, currently, in rural areas of California and Oregon.
You can read a summary of our exchange here, and watch the entire discussion here.
2019 – January: Article published in the International Journal of Communication.
David Cheruiyot and I just published an article in the International Journal of Communication. The full version of the article is available open-access here, and here's the abstract:
A "Hotbed" of Digital Empowerment? Media Criticism in Kenya Between Playful Engagement and Co-Option
Much has been written about the production and textual features of international media portrayals of Africa, but very little about how audiences on the continent perceive such coverage. This study fills this gap by investigating a campaign led by Kenyans on Twitter (KOT) to challenge CNN's portrayals of their country. Our analysis of the most prominent tweets, images, and users reveals the various strategies adopted by Kenyan audiences to criticize Western representations. This criticism, we argue, constitutes a form of metajournalistic discourse, which should not be reduced to a single story of digital empowerment. While contesting long-standing stereotypes and inequalities shaping global media narratives, this criticism recreates an image of Kenya aligned with a corporate project of nation branding that uplifts the voices and perspectives of digitally connected Nairobi-based elites. In response, we call for greater consideration of the interplay of global and local power relations in which such digital practices are embedded.
2018 – December: Talk at U-Mass Amherst and British Academy symposium at the University of Leeds.
Just before the Christmas break, I had the pleasure to kick start the "Platform and Data Matter" Research Seminar Series organized by Jonathan Corpus Ong and Seyram Avle at UMass Amherst's Communication Department. I talked about my current work Facebook's Internet.org initiative, and the intersection of digital studies and postcolonial theory. A few days later, I returned to my Alma Mater where Chris Paterson and I organized a symposium sponsored by the British Academy on "Media and Foreign Powers in Africa".
2018 – September: New beginnings at Stanford's Digital Civil Society!
I am delighted to announce that I have started my new position as a postdoctoral research fellow at Stanford's Digital Civil Society Lab! During my time at the Lab, I'll be working on a new research project on the history of Facebook's initiative to bring connectivity in the Global South – Internet.org-, and its implications for civil society groups across Africa. I'll also carry on the development of the "Africa Stereotype Scanner" that Zineb Oulmakki and I started at Stanford's Center for African Studies.
2018 – July: IAMCR (University of Oregon) and Stuart Hall Award.
David Cheruiyot and I were extremely
honored to receive the Award in memory of Stuart Hall for a paper on digital media criticism in Kenya that we presented at the IAMCR conference. We presented the paper on an excellent panel put together by Tewodros Workneh on development communication in Africa.
2018 – April: Digital Africa posts published on Africa is a Country.
I had been looking forward for a long time to contributing to the awesome blog Africa is a Country, and I finally had the opportunity to do so by compiling and editing a series of blog posts on "Digital Africa". This series follow-up from an event I organized at Stanford in the Spring 2017 and contains exciting contributions about data journalism in Africa (David Cheruiyot), the Maker Movement in Ghana and Nigeria (Seyram Avle and Chuma Asuzu), China's media footprint on the continent (Dani Madrid Morales), the impact of business news on Africa's global image (Mel Bunce), and future directions in studying social media, democracy and protest in Africa (Herman Wasserman),
2017 – November: African Studies Association Conference (Chicago).
I had the pleasure to sit on a panel put together by Chipo Dendere and Obert Hodzi on "Revolutionary politics in the Internet Age". Kim Yi Dionne was also on the panel. This was a particularly timely and exciting topic given the events unfolding in parallel in Zimbabwe. I presented a paper co-authored with David Cheruiyot on digital media criticism in Kenya. The panel and discussions touched on a range of issues: the challenges of measuring impact of digital media on politics; how to access and research
media content (such as closed Whatsapp groups where many political discussions are happening or discerning fake twitter accounts); the role of humor and satire in online political engagement across the continent; and the importance of grounding the analysis of digital media in local political contexts and socio-cultural dynamics. Best of all, the panel was selected by the African Studies Association of Africa, University of Ghana to be streamed live back to Accra, Johannesburg, Pretoria, and Victoria. How fitting!
2017 – November: Webinar Africa Communications Leadership Series.
I animated my very first webinar for the Africa Communications Leadership Series of the Africa Communications Week, a new digital initiative that seeks to put under the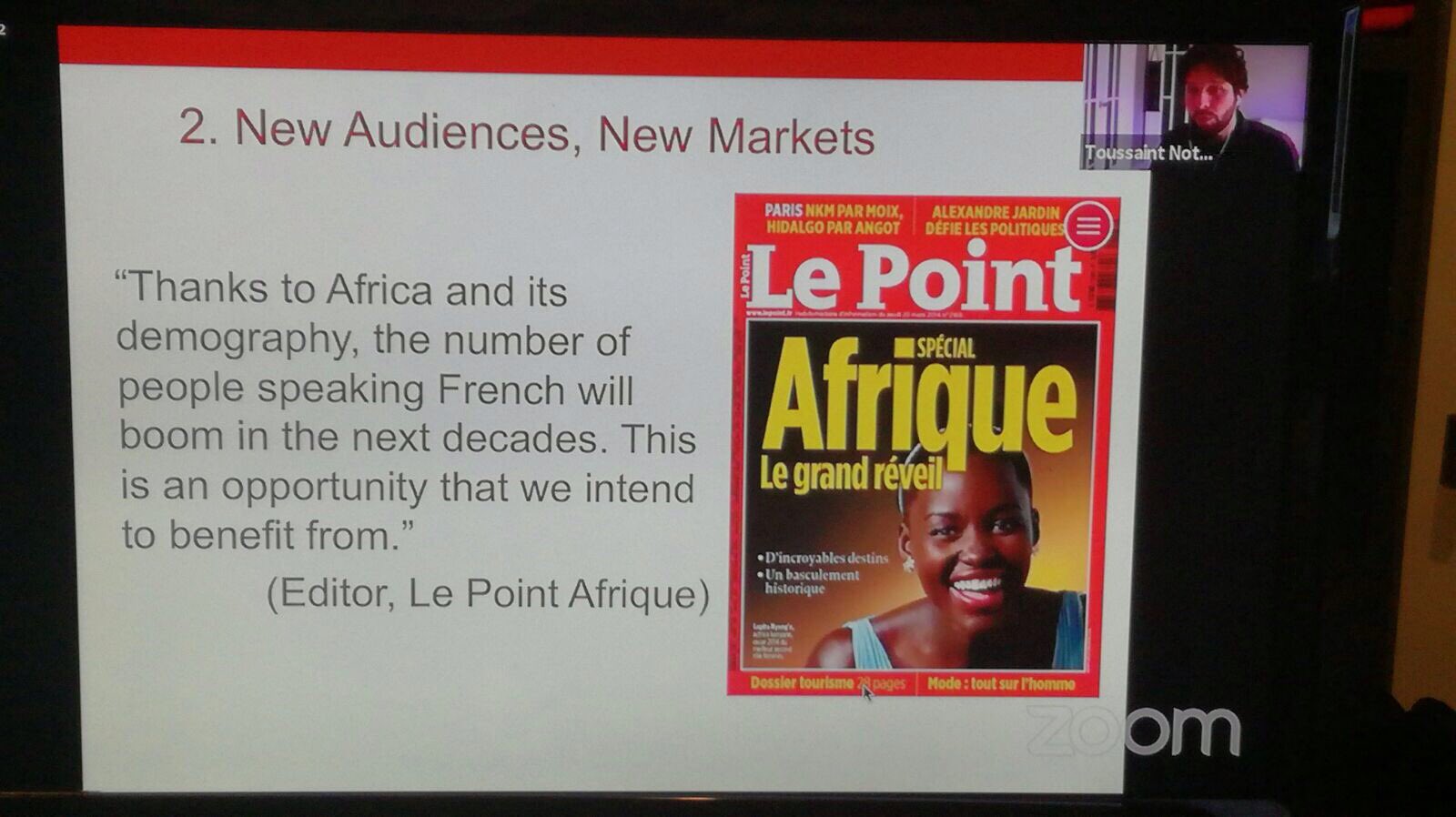 spotlight the importance of communicators across the continent and various fields – from journalism and NGO to government and business PR. I talked about the changes and continuities in global representations of Africa. I also fleshed out some practical ways and strategies through which communication professionals can actively contribute to challenging the single story. I was asked a lot of piercing questions from a digital audience spread across the continent; thanks to Eniola Harrison and her team for making it happen.
2017 – May: International Communication Association Annual Conference.
I had a busy few days at the ICA annual conference in San Diego. I organized and chaired a round table interrogating the intersection of postcolonial theory and media/communication studies. I chaired a special session on "Global Nationalist Populist Movements and Moments", and one on "Studying International News Flows: Media Hierarchies and Intermedia Agenda Setting". Finally, I was a participant on a blue-sky workshop on "Bridging the North-South gap and the Internationalization of Communication Studies". There was also a growing presence of African scholars at the conference, which is a positive sign for the internationalization of the association.
2017 – May: African Media Studies in the Digital Age Workshop (Stanford).
After a year of preparation, it finally happened! I organized a workshop / pre-conference on Digital Media in Africa, with the support of the Center for African Studies, Taylor and Francis, the Global Communication and Social Change division of the ICA and the blog Africa is a Country. 20 external researchers joined Stanford faculty, post-docs and graduate students to discuss an exciting range of papers about digital media and politics, culture, economy, and development across the continent. Find out more about the program, papers and participants here: http://africanmediastudies.wordpress.com We are now preparing a special series of blog posts for Africa is a Country.
2017 – April: "Social Media in Africa: Beyond the hashtag" conference (Edinburgh).
Thomas Molony and Maggie Dwyer fr
om the Centre for African Studies at the University of Edinburgh put together a wonderful program for their conference on social media in Africa. I wasn't able to attend physically but skyped in to present a paper that David Cheruiyot and I are working on. We are looking at the SomeonetellCNN campaign in Kenya that led CNN to issue an apology for its description of the country as a "hotbed of terror". The full program is available here, and you can read a recap of the conference here.
2017 – March: Interview about my teaching at Stanford.
I was recently interviewed about my teaching experience at Stanford. Replication studies, group investigation of representation of Africa on the Stanford campus, students' reports on diaspora and African language media, guest sessions with journalists, scholars and artists… Find out more about what the students and I have been working on in my two classes – "Media Representations of Africa", and "Media and Conflict in Africa". The syllabi for those classes are available here. Feel free to share and send me comments and suggestions!
2017 – March: British Academy / Leverhulme Research Grant.
Chris Paterson (University of Leeds) and I have been awarded a £10,000 BA/Leverhulme Small Research Grant for a research project titled "Contested Discourses of Africa Rising: the struggle for control of the image of the foreign partner". This study will analyze how the involvements of foreign powers like the US, France and China in Africa are variously depicted in global media. We will be conducting a content analysis of international news, as well as interviews with journalists and media professionals with an influence over this discourse to understand the various forces shaping media narratives. The project will run from April 2017 to September 2018.
2016 – December: New article published in Journalism Studies.
I recently published an article "How Western Journalists Actually Write about Africa" in Journalism Studies  based on findings from my PhD, and that challenges dominant assumptions about Western media coverage of Africa. The article also responds to (and supports) several points made by Martin Scott in a fascinating article last year in the same journal. Looking at the French and British press, it appears that the trope of tribalism and generalization about Africa are not as pervasive as often believed. The coverage relies equally (French newspapers) if not more (British newspapers) on African voices, although these voices are selected and framed in ways that contribute to feed postcolonial stereotypes.  Overall, I argue that postcolonial analysis of journalism should strive for greater engagement with the complexity and contradictions of media discourse.
2016 – July: IAMCR and African Journalism Studies Award (Leicester).
I was in Leicester to present two papers at the annual conference of the International Association for Media and Communication Research (IAMCR). The first paper offered a typology of factors that led to the emergence of the Africa Rising in international media. The paper was awarded the very first African Journalism Studies prize from the International Communication Division of IAMCR. The second presentation (with Seth Ouma and Jacinta Mwende) emerged from our work on the Mecodem project. We focused on Kenyan journalists during the 2013 elections, and notably how a cross-societal peace narrative pervaded the journalists' role perception and performance.
2016 – June: ICA, award, and publication (Fukuoka).
I was in Fukuoka for the annual conference of the International Communication Association. I presented a paper based on my interviews with foreign correspondents in Kenya and South Africa. I showed that foreign correspondents are acutely aware of issues of misrepresentation and postcolonial stereotyping, and I offered a typology of strategies they employ to avoid contributing to this. The paper was part of a panel on "Africa's media image: power and communication in the digital age" which was put together by Mel Bunce and also included Kate Wright. The panel won an award from the Global Communication and Social Division and coincided with the publication of the book Africa's Media Image in the 21st Century, to which I contributed a chapter.