EVENTS ORGANIZATION
At Stanford and Leeds, I have been involved in the organization of several conferences and events related to digital media in Africa, media globalization, digital convergence and political engagement, urban communication, media production research, and African cinema. Find out more below :
RESEARCH NEWS
2017 – November: African Studies Association Conference (Chicago).
I had the pleasure to sit on a panel put together by Chipo Dendere and Obert Hodzi on "Revolutionary politics in the Internet Age". Kim Yi Dionne was also on the panel. This was a particularly timely and exciting topic given the events unfolding in parallel in Zimbabwe. I presented a paper co-authored with David Cheruiyot on digital media criticism in Kenya. The panel and discussions touched on a range of issues: the challenges of measuring impact of digital media on politics; how to access and research
media content (such as closed Whatsapp groups where many political discussions are happening or discerning fake twitter accounts); the role of humor and satire in online political engagement across the continent; and the importance of grounding the analysis of digital media in local political contexts and socio-cultural dynamics. Best of all, the panel was selected by the African Studies Association of Africa, University of Ghana to be streamed live back to Accra, Johannesburg, Pretoria, and Victoria. How fitting!
2017 – November: Webinar Africa Communications Leadership Series.

I animated my very first webinar for the Africa Communications Leadership Series of the Africa Communications Week, a new digital initiative that seeks to put under the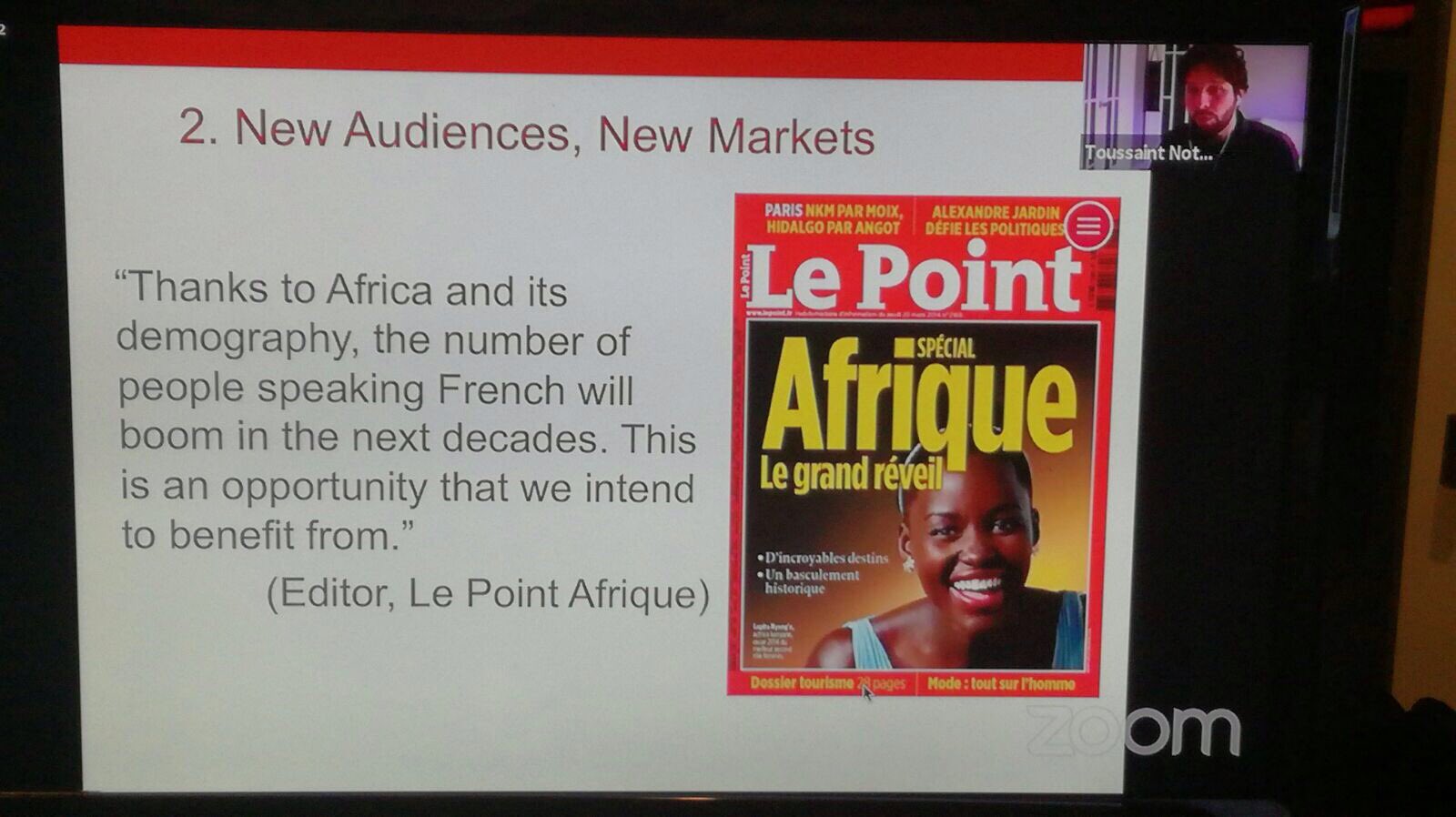 spotlight the importance of communicators across the continent and various fields – from journalism and NGO to government and business PR. I talked about the changes and continuities in global representations of Africa. I also fleshed out some practical ways and strategies through which communication professionals can actively contribute to challenging the single story. I was asked a lot of piercing questions from a digital audience spread across the continent; thanks to Eniola Harrison and her team for making it happen.
2017 – May: International Communication Association Annual Conference.

I had a busy few days at the ICA annual conference in San Diego. I organized and chaired a round table interrogating the intersection of postcolonial theory and media/communication studies. I chaired a special session on "Global Nationalist Populist Movements and Moments", and one on "Studying International News Flows: Media Hierarchies and Intermedia Agenda Setting". Finally, I was a participant on a blue-sky workshop on "Bridging the North-South gap and the Internationalization of Communication Studies". There was also a growing presence of African scholars at the conference, which is a positive sign for the internationalization of the association.
2017 – May: African Media Studies in the Digital Age Workshop (Stanford).
After a year of preparation, it finally happened! I organized a workshop / pre-conference on Digital Media in Africa, with the support of the Center for African Studies, Taylor and Francis, the Global Communication and Social Change division of the ICA and the blog Africa is a Country. 20 external researchers joined Stanford faculty, post-docs and graduate students to discuss an exciting range of papers about digital media and politics, culture, economy, and development across the continent. Find out more about the program, papers and participants here: http://africanmediastudies.wordpress.com We are now preparing a special series of blog posts for Africa is a Country.
2017 – April: "Social Media in Africa: Beyond the hashtag" conference (Edinburgh).
Thomas Molony and Maggie Dwyer fr
om the Centre for African Studies at the University of Edinburgh put together a wonderful program for their conference on social media in Africa. I wasn't able to attend physically but skyped in to present a paper that David Cheruiyot and I are working on. We are looking at the SomeonetellCNN campaign in Kenya that led CNN to issue an apology for its description of the country as a "hotbed of terror". The full program is available here, and you can read a recap of the conference here.
2017 – March: Interview about my teaching at Stanford.
I was recently interviewed about my teaching experience at Stanford. Replication studies, group investigation of representation of Africa on the Stanford campus, students' reports on diaspora and African language media, guest sessions with journalists, scholars and artists… Find out more about what the students and I have been working on in my two classes – "Media Representations of Africa", and "Media and Conflict in Africa". The syllabi for those classes are available here. Feel free to share and send me comments and suggestions!
2017 – March: British Academy / Leverhulme Research Grant.
Chris Paterson (University of Leeds) and I have been awarded a £10,000 BA/Leverhulme Small Research Grant for a research project titled "Contested Discourses of Africa Rising:
the struggle for control of the image of the foreign partner". This study will analyze how the involvements of foreign powers like the US, France and China in Africa are variously depicted in global media. We will be conducting a content analysis of international news, as well as interviews with journalists and media professionals with an influence over this discourse to understand the various forces shaping media narratives. The project will run from April 2017 to September 2018.
2016 – December: New article published in Journalism Studies.
I recently published an article "How Western Journalists Actually Write about Africa" in Journalism Studies  based on findings from my PhD, and that challenges dominant assumptions about Western media coverage of Africa. The article also responds to (and supports) several points made by Martin Scott in a fascinating article last year in the same journal. Looking at the French and British press, it appears that the trope of tribalism and generalization about Africa are not as pervasive as often believed. The coverage relies equally (French newspapers) if not more (British newspapers) on African voices, although these voices are selected and framed in ways that contribute to feed postcolonial stereotypes.  Overall, I argue that postcolonial analysis of journalism should strive for greater engagement with the complexity and contradictions of media discourse.
2016 – July: IAMCR and African Journalism Studies Award (Leicester).
I was in Leicester to present two papers at the annual conference of the International Association for Media and Communication Research (IAMCR). The first paper offered a typology of factors that led to the emergence of the Africa Rising in international media. The paper was awarded the very first African Journalism Studies prize from the International Communication Division of IAMCR. The second presentation (with Seth Ouma and Jacinta Mwende) emerged from our work on the Mecodem project. We focused on Kenyan journalists during the 2013 elections, and notably how a cross-societal peace narrative pervaded the journalists' role perception and performance.
2016 – June: ICA, award, and publication (Fukuoka).
I was in Fukuoka for the annual conference of the International Communication Association. I presented a paper based on my interviews with foreign correspondents in Kenya and South Africa. I showed that foreign correspondents are acutely aware of issues of misrepresentation and postcolonial stereotyping, and I offered a typology of strategies they employ to avoid contributing to this. The paper was part of a panel on "Africa's media image: power and communication in the digital age" which was put together by Mel Bunce and also included Kate Wright. The panel won an award from the Global Communication and Social Division and coincided with the publication of the book Africa's Media Image in the 21st Century, to which I contributed a chapter.